Do you find it difficult to get excited by the sheer amount of comic book movies and shows available these days? you are not alone.
The stress felt by many fans this year has been measured in a new study by the massive pop culture site Fandom. The site surveyed 5,000 entertainment and game enthusiasts between the ages of 13 and 54. They also used "property insights" from the platform to more than 300 million monthly users across 250,000 different wikis.
data smash
Fandom has divided fan types into four groups based on their engagement and how quickly they watch/play new releases.
– advocates deeply invested and highly involved; They see things open up on the weekend/fall (Marvel, Star Wars and DC fans fall in love here)
– The intentional ones make up the largest group; They see things within two weeks
– Culturalists sways heavily and is affected by hum; They see things within a month
– flirt are the least engaged audience; They see things when they can
The study found that the community is split roughly 50/50 between the more engaged groups and the smaller, energetic groups, but it's clear which segments the studios want to keep the most. We're dropping the most money — not just on movie watching and streaming service subscriptions. Defenders buy items and go to theme parks.
Where comic book movie fans stand
When you look at the numbers, the results show what many people have been thinking since then game over Hitting theaters – the excitement is no more. There are too many, and the "everything connected" plan is starting to fail.
The big takeaway with DC fans isn't surprising — they're character based. Respondents (57%) said they want more independent projects with characters they love. They don't want DC to take cues from the connected Marvel universe. Fans want Superman and Batman, the publisher's household names. This pays off when you look at the box office for Black Adam which DC had hoped to shatter post-pandemic records. He overshadowed this by spreading news about Superman that had nothing to do with the $195 million movie they wanted fans to see.
More than a third of Marvel fans surveyed feel overwhelmed by the constant stream of content on Disney+ and in theaters. But they're also more likely to watch any project (81% of them are) from Marvel Studios, whether or not they know the characters involved. Only 38% of Marvel fans said they follow certain characters. This is a mixed bag for the next phase with a mix of new and established characters (not a big deal for fans), but it gets slogged a lot in a couple of years.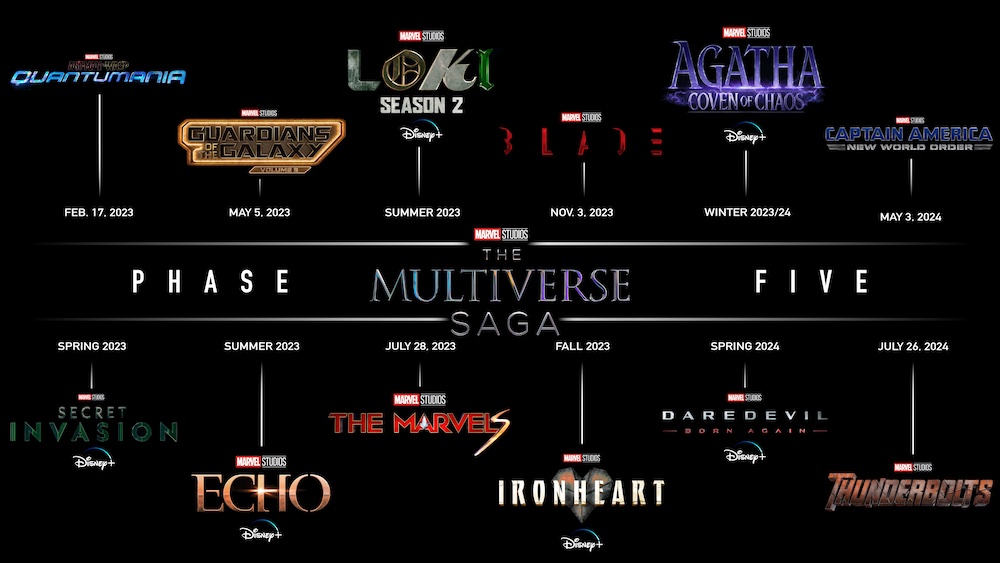 state of things
Theatrical business is struggling in the post-pandemic world, so no movie is making what was expected several years ago. Comic book movies don't make billions (except No going home), but still made hundreds of millions. Business is fine, but no one can claim to have a quick recovery.
Pop culture trends come in cycles of a decade or less, but this is our first with streaming being such a big component. We've had about a 15-year saturation in comic book movies (mostly Marvel) with two years of streaming shows. Marvel hopes people will part with their money for new stories until at least May of 2026. DC's grand plan isn't announced at the moment, but CEO David Zaslav has promised a ten-year plan that looks like the one Marvel is running – one that fans say they don't want.
The successes we have seen this year lie in other genres. Top Gun: Maverick It was a summer movie. The sequel (nearly 40 years after the original with no superheroes and galactic villains and minimal CG footage) raked in nearly 1.5 billion this summer. Original horror is trending this year with movies like Nope, smileAnd the barbaricAnd the Terrifying 2. Non-franchise films return to theater seats. High fantasy has taken over live streaming for shows like Rings of Power, Wheel of Time, WillowAnd the Dragon house.
Subscribe to our newsletter!
Get Tabletop, RPG and Pop Culture news delivered straight to your inbox.
It's been a good run, but this intense era of comic book movies seems to be fading away. It will be interesting to see what the audience turns on next. I hope there's a decade of boundary-pushing sci-fi that isn't a rehash of what came before. What about you?
Pop Culture staff writer who has been a BoLS staff member since 2010. Contributor to the One of Us podcast. A fan of Marvel, Vertigo, and Dystopian science fiction. He enjoys bad movies, amazing erotic shows, and the internet. He hates rom-coms. (she are)